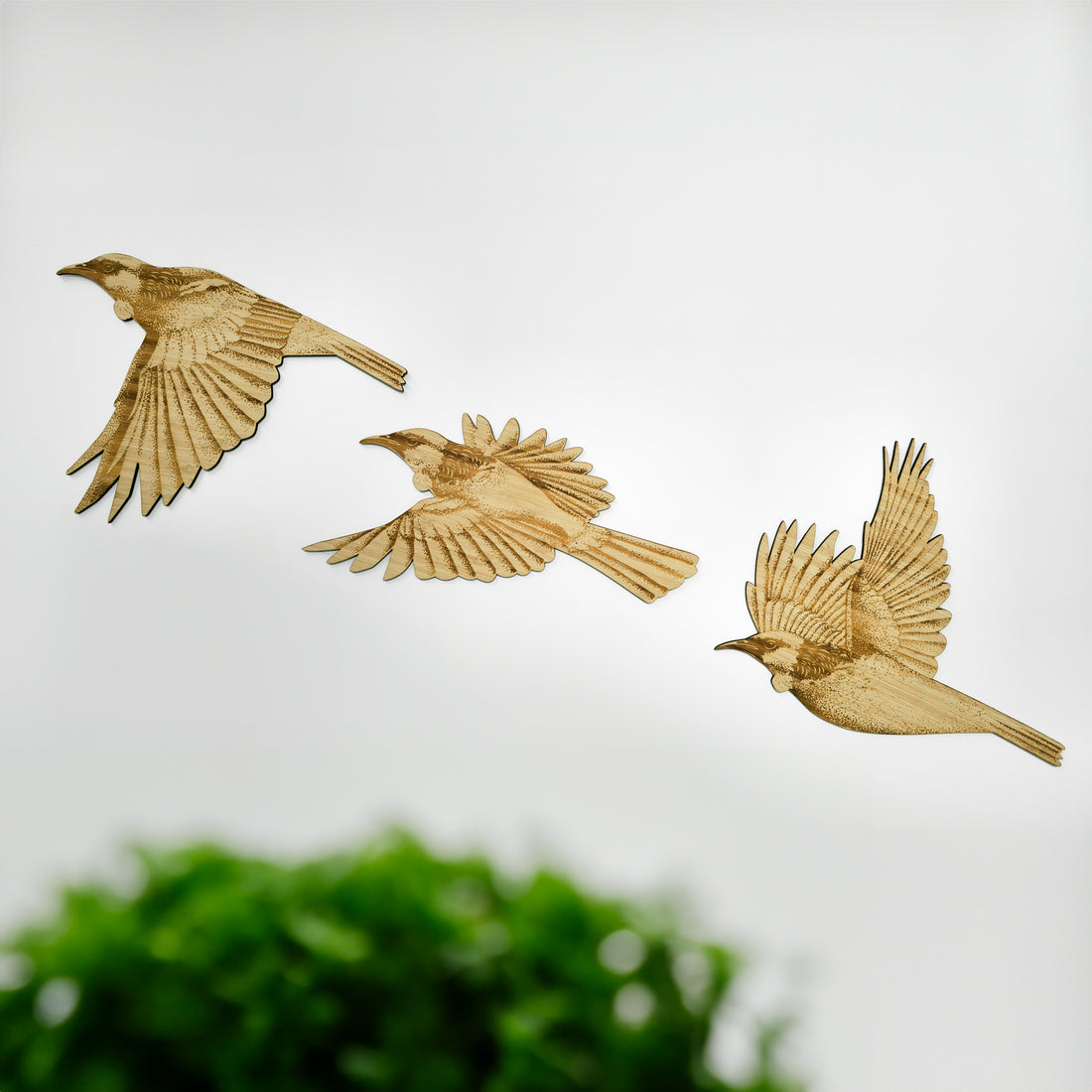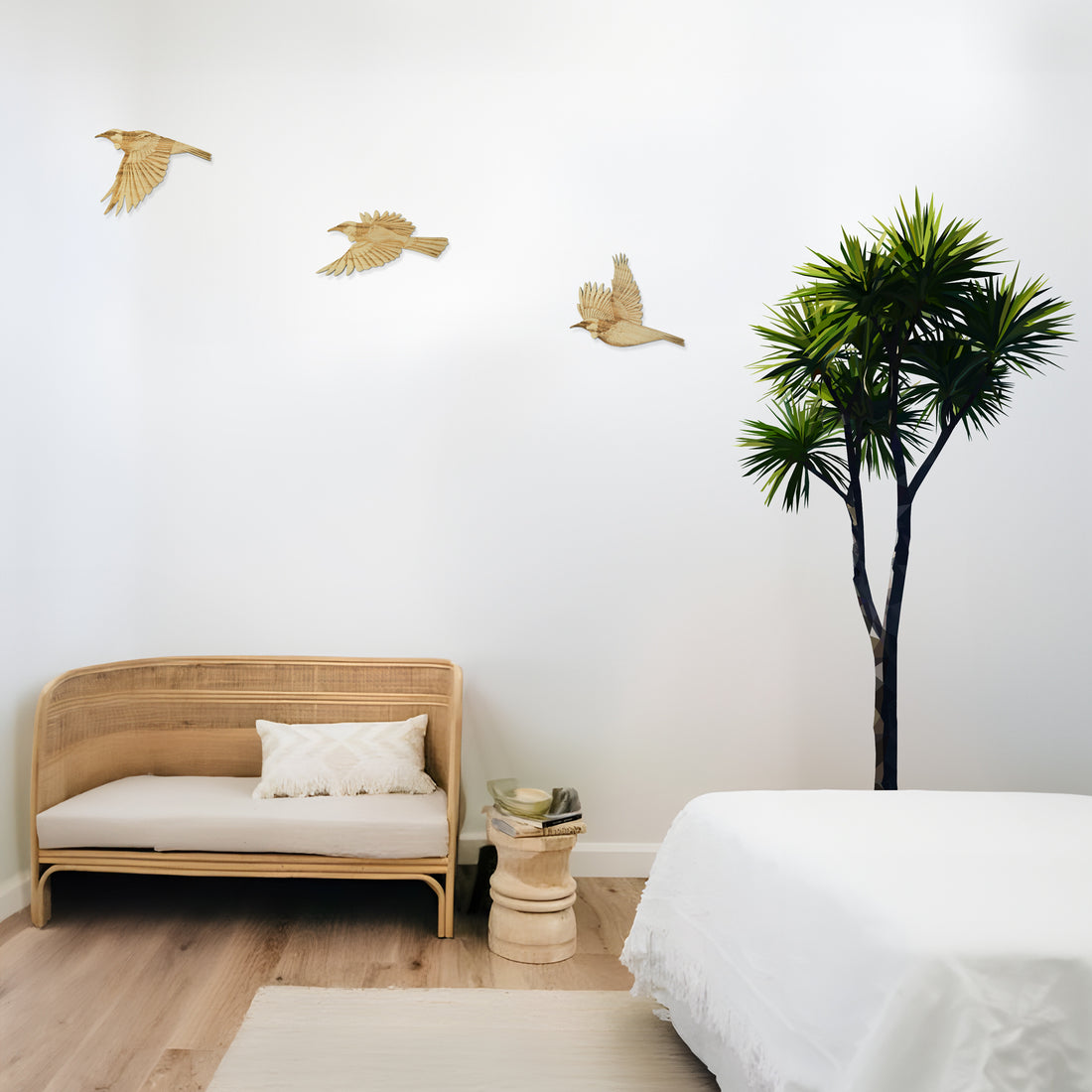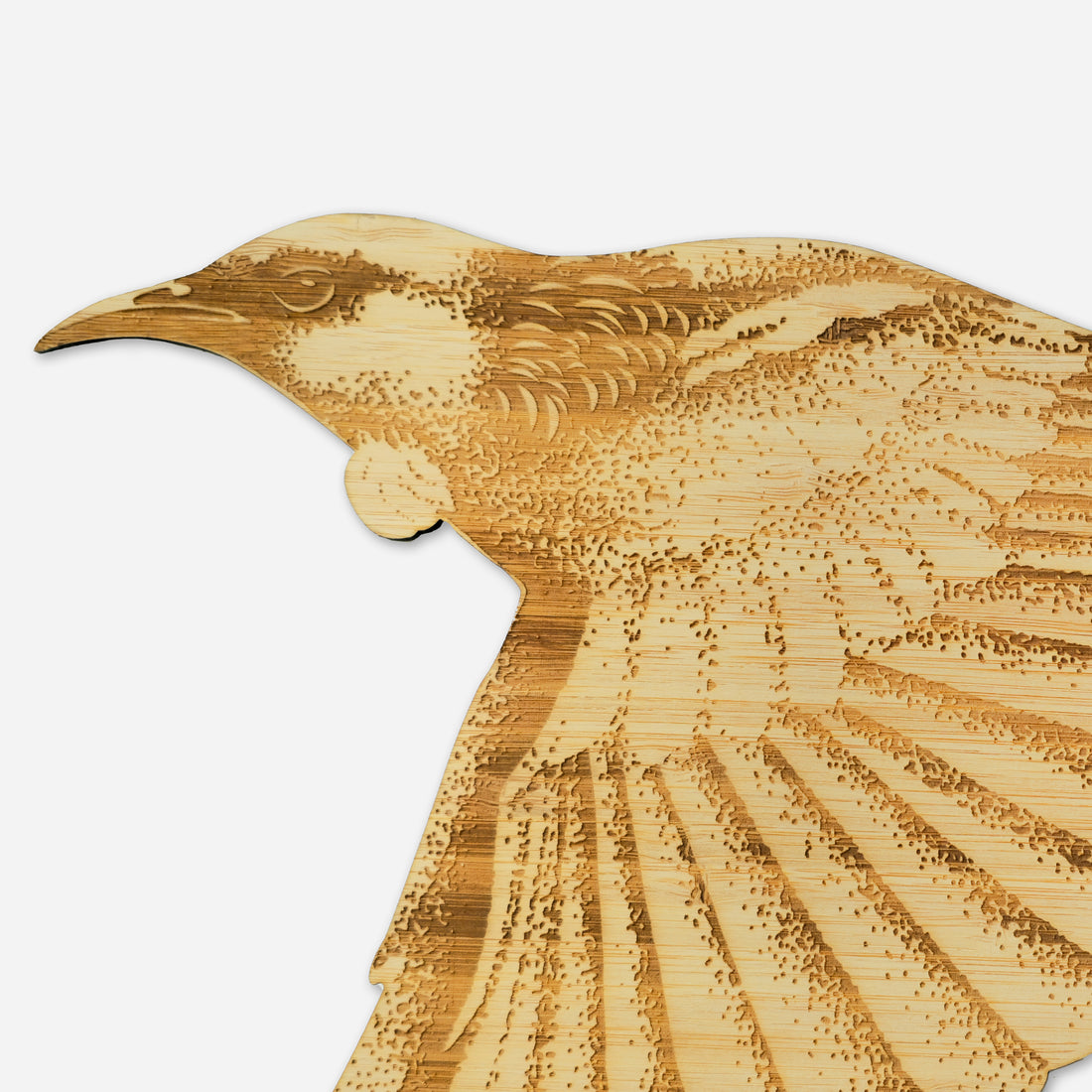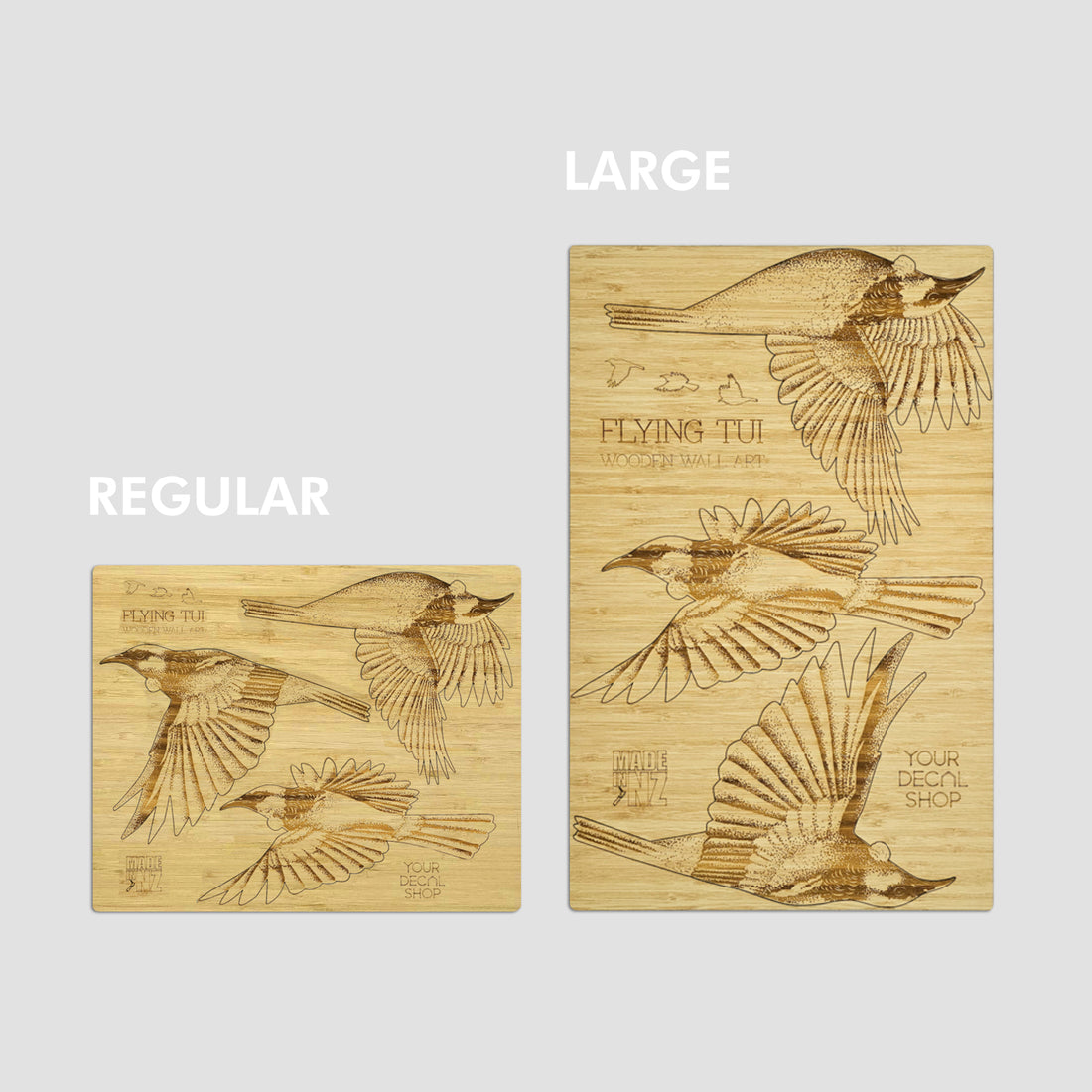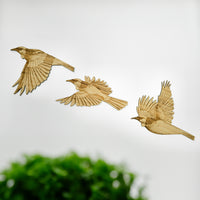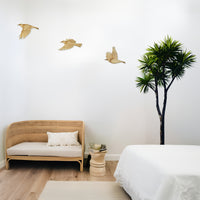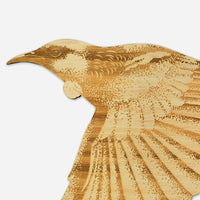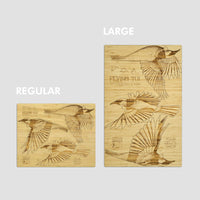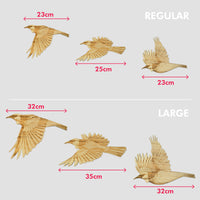 Introducing our intricate Laser Cut Wooden Flying Tuis – Each pack contains three unique Tuis, expertly crafted from eco-friendly bamboo. These remarkable birds are designed to inspire a sense of movement and freedom, with each Tui showcasing a different flying position, their wings gracefully capturing the essence of flight.

These birds were hand drawn and then intricately laser etched to capture detail while still allowing the beauty of the wood grain to show through. We are proud to be able to showcase our art through sustainable materials to create something completely unique.

The regular pack and large pack options allow you to choose the perfect size to complement your space. Arrange them on your walls to create a mesmerising display that gives the illusion of our favourite native birds taking flight up your wall.

To create an even more eye-catching feature, pair our Wooden Flying Tuis with our other wall decals, like our Geometric Cabbage Tree design. By cleverly positioning them, you can create movement and capture the serenity of the Tui birds emerging from the branches, bringing the beauty of New Zealand's unique landscape to your living space.

Each Tui is equipped with a convenient, small, removable, and repositionable adhesive tab on the back, ensuring effortless application directly onto your chosen surface.

Proudly designed and made inhouse in NZ by Your Decal Shop. 

NZ Shipping: 2-3 working days in NZ. 2-3 weeks for Australia
Wooden Wall Art
Made from 3mm carbonsied bamboo ply with self-adhesive backing.
Designs with multiple parts come with cardboard template to assist in installation.
Designed and made in NZ
Why Bamboo?
Bamboo is a sustainable material for several reasons. It grows rapidly, reaching maturity within just a few years compared to other trees. This quick regrowth cycle ensures a continuous and abundant supply of bamboo without causing deforestation.
Additionally, bamboo has a remarkable ability to absorb carbon dioxide and release oxygen, making it an effective carbon sequestering plant. It requires minimal water, no pesticides or fertilizers, and is naturally resistant to pests and diseases, reducing the need for harmful chemicals.
Its versatility allows for efficient use of the entire plant, minimizing waste. These qualities make bamboo an environmentally friendly choice, promoting sustainability.
For more details, read our FAQ
If you have any questions, contact us at info@yourdecalshop.co.nz
Easy DIY install
Follow Shayla as she shows each step to install our Wooden Wall Art.
Not only is it easy, but its fun!
Sustainability in Style
We have chosen bamboo as regenerates quickly, absorbs more carbon dioxide than trees, and requires minimal pesticides or fertilisers. All packaging is made from carboard and is recyclable.
Proudly made in NZ
From design to manufacturing, every order is handmade in our Hawkes Bay studio.